Upcoming Workshop - Painting the Human Figure with Oils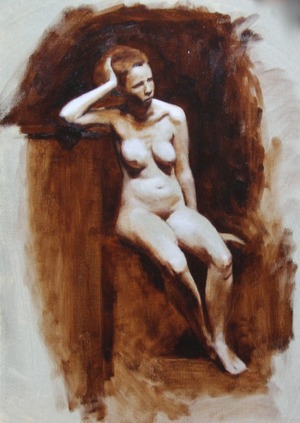 Saturday 24th January – Nicholas Robinson – Painting the Human Figure with Oils – Limited Palette
One day course in painting the nude in oil. Florence Academy of Art prize winner and graduate Nicholas Benedict Robinson will instruct in painting the nude using limited oil palette. The course will comprise a step-by-step introduction to Realist painting methods, including demonstrations, individual instruction, direction on how to use materials, and use oils to describe line, proportion, gesture and light-effect in one pose.
Sign up to experience what will be a wonderful day of figure painting, working with a very exciting artist.
The workshop day costs €65 and will include a short morning break with tea and coffee's and then 1 hour for your own lunch. Bring your own materials. Anything you may be short of can be purchased in our shop for a special discount of 15% on the day.
http://www.kennedyart.com/workshop/saturday-24th-january-nicholas-robinson-painting-human-figure-oils-limited-palette/